Our Company
Heritage & bespoke excellence since 1800
Tillys, a family run business that was established in 1800, now specialises in made-to-measure drapery hardware, track and blind solutions to suit professional interior design needs. We pride ourselves in unique, bespoke collections and handcrafted finishes, boasting perhaps the most authentic selection of antique metal finishes available today. Our team at Tillys consists of highly skilled master craftsmen that use traditional methods combined with modern machinery to create custom-made interior design pieces in our Hampshire workshop. We are committed to providing the best quality products with the highest level of customer service.
How it began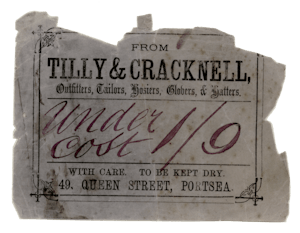 TILLYS story began in Naval Outfitting, from the heart of Portsmouth Harbour.  The business was started in 1800 by Mr G Tilly, who was a professional tailor providing all types of clothing for Royal Navy personnel. Mr Tilly quickly became recognised for his skill in tailoring, diversifying into bespoke garments, hats and gloves.
SINCE our long history began, we have diversified into different markets and products, as the craftsmanship was handed down from generation to generation.  Our introduction into the interiors market happened in the late 1970's and the natural progression of fabrics led the way into soft furnishings and window treatment, which is where we stand today.  One thing that has never changed, however, is our bespoke approach: we have always been made-to-measure.
When we say bespoke, we mean bespoke
So often with drapery hardware, the word 'bespoke' is used but the reality of it largely falls within the limitations of the product range.  This is where we can be different.  From design of finial and style of finish, our poles can be totally custom made to blend perfectly with proposed or existing schemes.
You may have an idea - just a simple sketch on the back of an envelope, perhaps. We're used to this, so send it in, with an indication of your vision and we'll translate that into a finished article.
Worldwide
Serving the Interior Design trade internationally - we have the experience to take the worry out of importing.  Our quotes can include freight and duty, to provide a full door to door cost.  We use reputable carriers to ensure reliable and prompt delivery.  We offer samples and literature as requested so that you can see the finishes before ordering.  Please contact us for further information about your nearest local distributor